Est: 1995
Admission (Fri-Sun):
$25 Adult (12+)*
$10 Kids (6-11)*
5 & under free
More information on the Admission page.
Special Information:
Race for the Cure: Wear your pink!
Monster Energy Concert Series:
• Friday, October 22:
TBA
• Saturday, October 23:
TBA
Trick-Or-Treating: TBA
ePeeWee (STACYC) Racing: Saturday @ 6:30 p.m. at the finish line
Halloween Costume Contest: Saturday @ 6:00 pm at Team Faith
STACYC Track: Open All Weekend. Must wear a helmet.
Motocross Track: The motocross track is off limits.
There is an Indiana Helmet Law that we want our GNCC racers to know about. All minors under the age of 18 must wear a helmet at all times on a dirt bike or ATV at Ironman Raceway.
Need a hookup camping spot, fill up with propane, dump your holding tank or fill up with drinking water? The KOA Kampground located off Route 231 in Crawfordsville, Indiana has you covered. They also still have some full hookups with sewer and 30/50 amp electric for the weekend of Ironman GNCC. Call them at (765) 230-0965.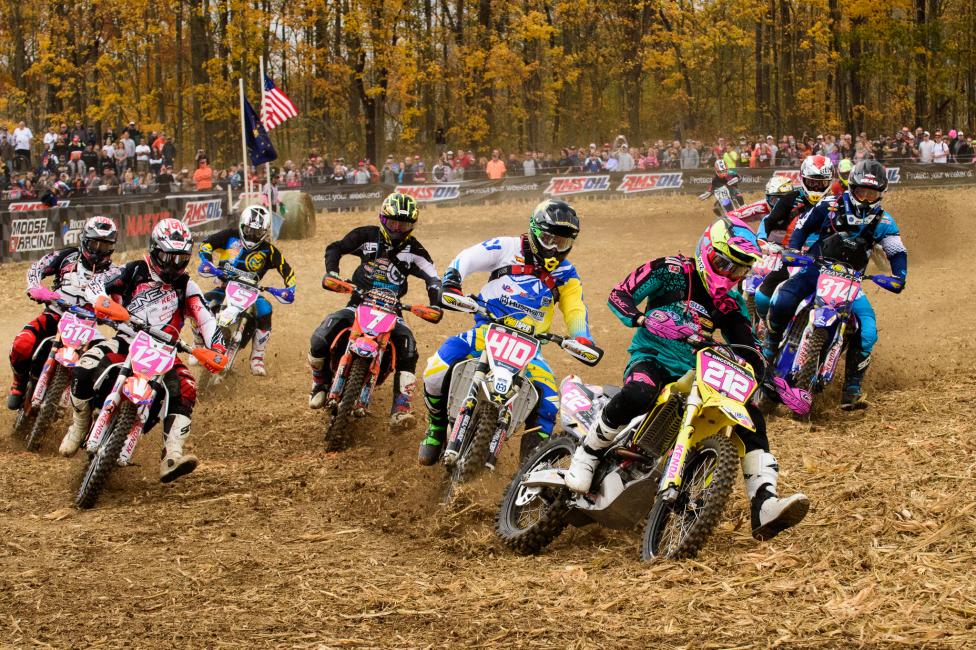 The Ironman GNCC is one of the most popular races on the circuit. Tom's Marine Sales, the local Polaris dealership hosts the event, and their large farm offers plenty of land for the track. Community support for this race is amazing. Ironman GNCC banners hang downtown, and the spectator count is incredible. The event has grown so much that it's overflowing from race to full-on industry trade show with many companies displaying the next year's models.
As far as the track, many riders call this one their favorite on the whole tour. The track has it all. The land in this area is totally flat, but the course runs near riverbanks, which means there's still plenty of elevation change. In fact, the hills here are some of the steepest on the circuit. If it rains, the hills will be the toughest part, as the course will be routed around the creeks. If it doesn't rain, the riders will hit the creeks, and they're rocky. Be careful not to cut a tire there. Also, since the race runs in October, it can get cold. Try to stay dry in those creeks.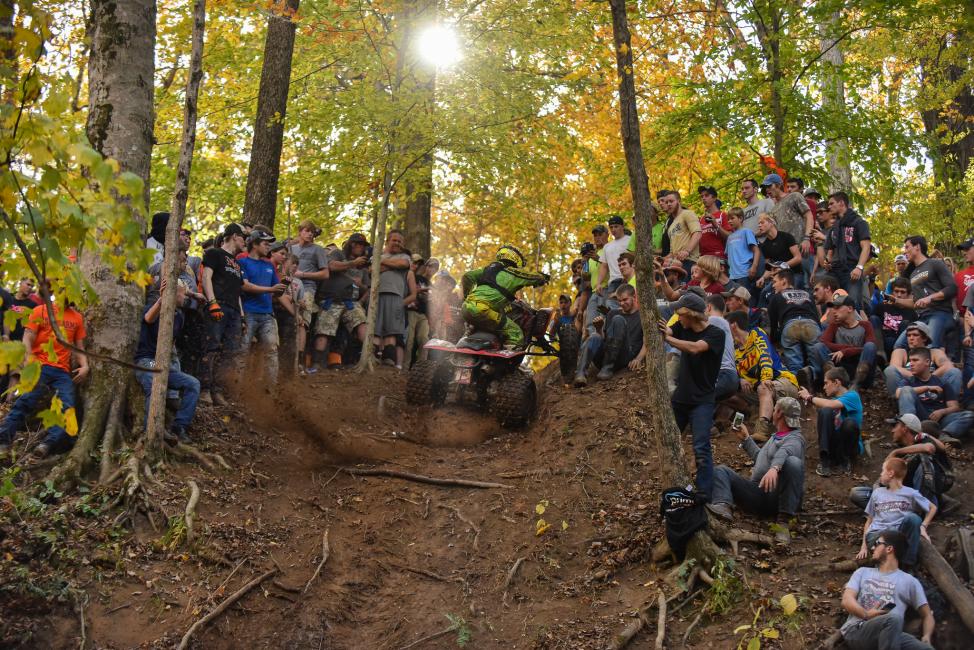 Outside of the woods, the course routes across harvested cornfields. You'll have your machine pegged at its absolute top-speed several times here. From tight trails, to technical hillclimbs, gullies, rock sections and creeks, all on top of great dirt, this track is a true test for a cross-country racer's all-around skills.
The Ironman event is named after the late GNCC ATV Champion Bob "Ironman" Sloan, who hailed from Indiana and dreamed for many years of seeing a GNCC event in his homestate. We lost Bob in 1994. Godspeed, Bob.
IRONMAN® is a registered trademark of World Triathlon Corporation, used by permission.