Est: 2014
Welcome to the 7th Annual Ironman National. This year's Ironman National will mark the opening round of the 2020 Lucas Oil Pro Motocross Championship, sanctioned by AMA Pro Racing.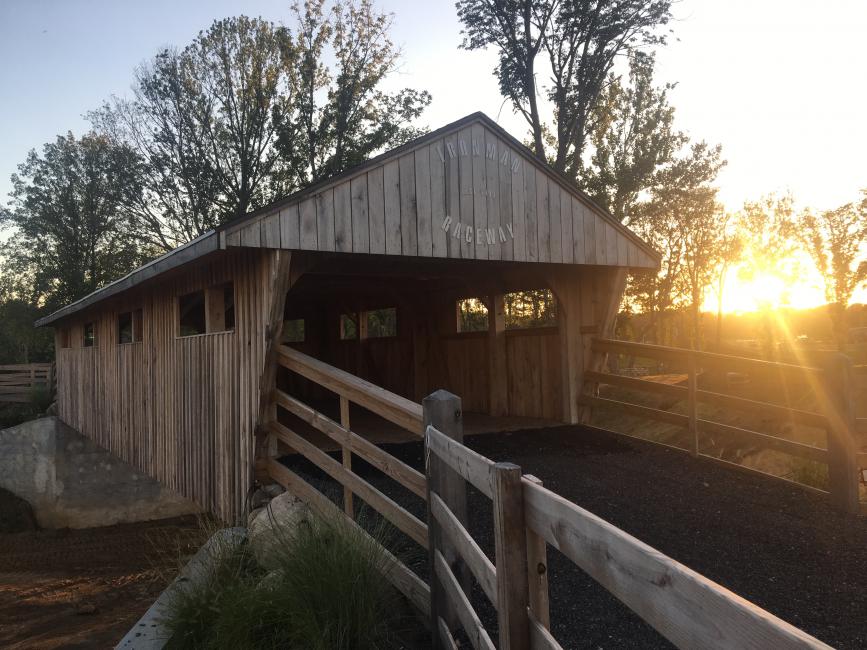 Track Profile
Cruising up to the Ironman National, not far from the motorsports mecca of Indianapolis, Indiana, you'll see picturesque views of small town America. The late summer date produces porch weather, and that draws all the locals who marvel at the professional cavalcade that has rolled into their town. You get a sense that this race offers up everything you want in a big-time motocross race….well, except one thing. The land surrounding the track looks flat. Where are the hills? Where's the elevation change? Can this possibly work?
You park your crew in the huge flat field—perfect for camping and pitting, and head out to check out the big rigs in the easily accessible pro pits. Then you walk toward the track and suddenly something happens: the ground opens up, drops down, and practically swallows the race track whole. The Ironman Raceway track doesn't just offer up elevation change, it offers up some of the biggest, steepest combinations of jumps and hills in the entire series, including Godzilla, a massive uphill jump.
You've already sensed that the rest of the track is perfect: the dirt, the obstacles, the sightlines. Add in those hills, and you've got pure motocross. By the end of the day that deep soil grows hugely rough and rutted, and only those wise in old-school motocross techniques like, standing up and changing lines, and riding smarter not harder, can succeed.
This track makes a fitting season finale, too. The dynamic terrain seems almost like a combination of every track in the series, all rolled into one place. Indiana is said to be the crossroads of America, and the Ironman National track is the perfect crossroads to determine America's motocross champions each year.
Amenities
FREE! Motorcycle Parking and Gear/Helmet Check @ Main Gate
Grandstand and Open Air Festival seating
Natural shaded viewing areas
Nearly 100% Track Viewing from a variety of vantage points
Infield Track Viewing via Three Track Tunnels
Covered Super Ticket VIP Viewing Areas with live timing and scoring, private restrooms, and catering
Handicap Viewing Area and convenient parking
Large interactive Sponsor Village
Legends and Heroes Display
State-of-the-art sound system
Event Simulcast on FM Radio @ MXFM 89.5
Food, Soft Drink and Beer Concessions
Easy Entry/Exit
Onsite Camping
General Information
Saturday Parking Fee: $10/vehicle
Gates open Thursday @ Noon and close midnight to 6 am daily. Please plan accordingly.
Be prepared to show credentials at all security checkpoints
General Information: located at the Main Entrance/Gate 1
Will Call: Follow the signs to Will Call, located right off St Rd. 47
Security: Headquartered at Main Entrance/Gate 1
Lost & Found: located at Main Entrance/Gate 1
No glass bottles in fan viewing areas
No drones or remote control aircraft permitted
No pets allowed in main fan areas or in Pro Paddock on Saturday.
No pit vehicles. No pit bikes, quads, scooters golf carts, UTVs, etc.
Do not take banners. Banners and event signage are the private property of the promoter. Removal of these items is illegal and punishable by law. You will be prosecuted for theft.
Responsibility. Motocross racing, like all motorsports can be dangerous. When you enter the grounds you assume the risk of injury and/or damage. It is your responsibility to keep yourself and your children. Be aware of their location at all times. Never turn you back to oncoming racers.
Keep your radio tuned to MXFM 88.3 FM for up-to-date announcements, racing news, interviews and information throughout the weekend. Although we have a public address system, the best way to stay tuned is to tune in.
Be Social with Ironman Raceway, like the official Facebook Page!
2020 Special Events
Local Partners
Get Connected
Facebook: @ironmanraceway
Instagram: @ironmanmx
Twittter: @ironmanraceway
Contact Us
MX Sports, Inc.
Event Director: Tim Cotter (304) 284-0084
[email protected]ing.com
Ironman National Winners
| | | | |
| --- | --- | --- | --- |
| 450 Class | | | |
| Date | Winner | Hometown | Machine |
| 8/25/18 | Justin Barcia | Monroe, NY | YAM |
| 8/26/17 | Jeffrey Herlings | Netherlands | KTM |
| 8/27/16 | Ken Roczen | Germany | SUZ |
| 8/22/15 | Ryan Dungey | Belle Plaine, MN | KTM |
| 8/16/14 | Ken Roczen | Germany | KTM |
| | | | |
| --- | --- | --- | --- |
| 250 Class | | | |
| Date | Winner | Hometown | Machine |
| 8/25/18 | Aaron Plessinger | Hamilton, OH | YAM |
| 8/26/17 | Zach Osborne | Abingdon, VA | HSQ |
| 8/27/16 | Austin Forkner | Richards, MO | KAW |
| 8/22/15 | Aaron Plessinger | Hamilton, OH | YAM |
| 8/16/14 | Marvin Musquin | France | KTM |
IRONMAN® is a registered trademark of World Triathlon Corporation, used by permission.